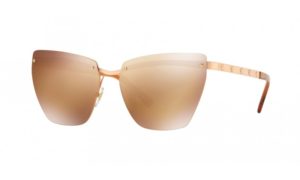 EN.
Discover the new color of the Medusa line by Versace, model VE2190 shiny frame and elegant cat-eye style. An eyewear icon for this maison that has always been characterized by innovative details capable of giving a final touch to any style, adapting to perfection. The unique and original design is combined with elegance and the prominence of the wearer's personality.
The new 14127T Pink Gold color with orange gold mirror lenses accompanies existing ones such as Azure, Silver and Pale Gold. The article is available in a single 58 gauge, with an irregular shape and standard non-polarized lenses. The mask style with transparent lenses and open frames make it perfect and complete for every look.
Metal rods for this daring cat eye model that never goes out of fashion despite being original and extremely young!
Make your style unmistakable … Wear a Versace eyewear … because you are unique !
IT.
Scopri il nuovo colore della linea Medusa di Versace, modello VE2190 montatura lucente ed elegante stile cat-eye. Un occhiale icona per questa maison che da sempre si caratterizza per dettagli innovativi capaci di dare un tocco finale a qualsiasi stile adattandosi alla perfezione. Il design unico ed originale si unisce all' eleganza ed al risalto della personalità di chi li indossa.
Il nuovo colore 14127T Pink Gold con lenti orange gold mirror accompagna quelli esistenti come l'Azure, il Silver e il Pale Gold. L'articolo è disponibile in un unico calibro 58, con forma irregolare e lenti standard non polarizzate. Lo stile a mascherina con lenti trasparenti e montatura a giorno lo rendono perfetto e di completamento per ogni look.
Aste in metallo per questo audace modello cat eye che non passa mai di moda pur essendo originale ed estremamente giovane!
Rendi il tuo stile inconfondibile…. Indossa un occhiale Versace…  perché tu sei unico!!